There was a slut walk in Toronto today. And, for the prudish, the idea of any sort of movement, walk or rally associated with the term 'slut' might be a bit unsettling or may ruffle some feathers. On the flip side of things, the activists who were wholeheartedly in support of today's walk, were doing so to resist against comments that had been made by a Toronto police officer on January 24th, 2011 at York's Osgoode Hall, where the officer had been delivering a talk about campus safety [oddly enough] – when his words moved from being seemingly helpful to landing at being judgmental and downright disrespectful.
The officer from Toronto's 31 Division addressed the room using words alluding to the idea that women wilfully invite acts of sexual assault. In the officer's own words, "women should avoid dressing like sluts in order not to be victimized." Needless to say, in the days following the incident, there has been a lot of pandemonium in the social media world – and rightly so.
As a woman I know firsthand the amount of BS that comes out of other peoples' mouths regarding how a woman dresses, in relation to whether or not she is promiscuous. How myopic must a person's mind be to conflate these two ideas? Unfortunately, these ideas are deeply embedded in dominant world views/ systems of thought and in many ways are tied to religious principles. Irrespective of what ones beliefs are it is disgusting to insinuate that because a woman chooses to wear short booty shorts on her Sunday promenade along the beach – that somehow, that is grounds for her being a target of sexual violence. It's absolutely appalling.
The fact that a police officer uttered such words is not surprising but, nonetheless – doubly insulting, considering that their role in society is to serve and protect. Police officers in the city of Toronto [and elsewhere] have a lengthy track record, and not one that is an especially positive one. Instead, their records, in terms of their job performance should really be considered rap sheets, if we are to seriously probe into the ill mechanisms that are often used by named crooked cops. It is never okay for police officers' criminality, power-tripping and/ or chauvinism to be rendered permissible and rallying against injustices always deserves accolades. On that note: many congratulatory words are being sent to the creators of Slut Walk Toronto.
Below is footage from today's march: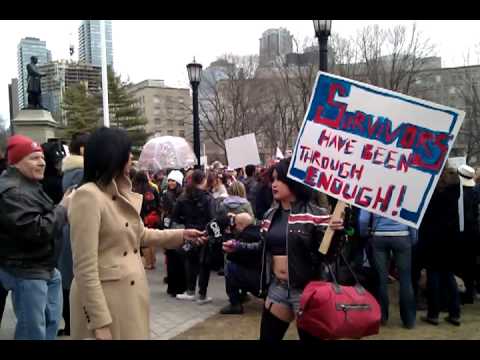 For more information about Slutwalk Toronto visit: www.slutwalktoronto.com